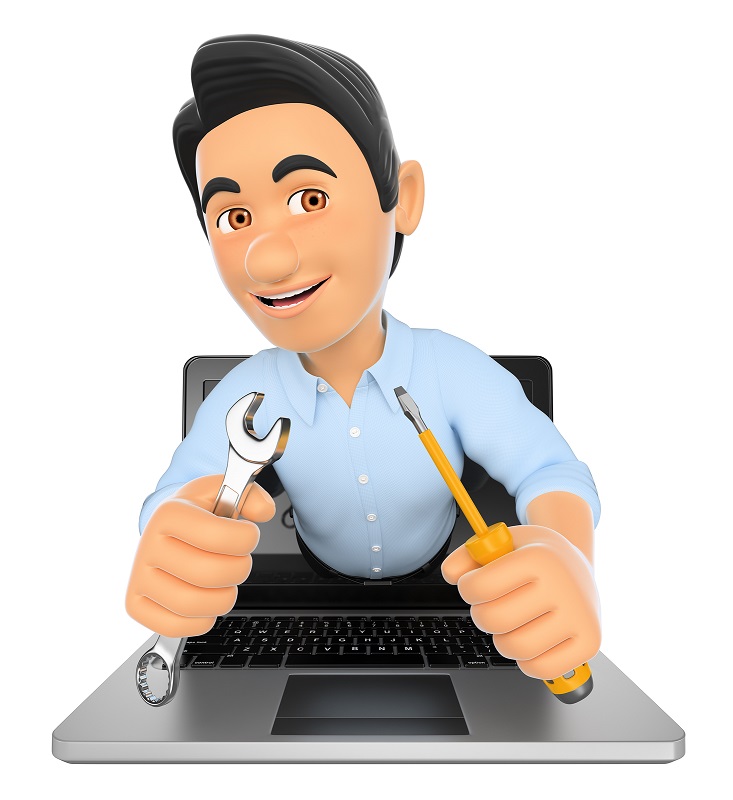 As a small business owner, keeping your computers running is a necessity. After all, they contain everything you need to keep your business going from day to day. If your business is too small to have a full time IT professional on staff, where can you find a trusted computer repair company or on-call IT service?
Decide the Type of Company You Want
The first step in finding the right fit for you is deciding between a computer repair company and on-call IT service. An on-call IT service comes to you and manages your entire network where a computer repair company just fixes your computer when there's an issue. The benefit of hiring a company that comes to you and takes care of your entire network is that they can help prevent issues like spyware, malware, and viruses by managing your firewall. Companies that offer this type of service are also called technology outsourcing services.
The other option is a drop-in repair or computer repair shop. There are many different types from nationally known companies to independent shops. The benefit of this type of company is that they are typically cheaper than someone who comes to you. However, a downside is that you don't know who is going to work on your computer any given day.
Choose Wisely
Remember that anyone you allow onto your computer or network has instant access to your employee and customer files. If you use any of the programs that autosave your passwords, you are unwittingly giving a stranger access to all your company information. Before you take your computers anywhere or have anyone come on site, do your research. Read the reviews if it's a drop off type service. If you're hiring a company to be your on-call IT service, read reviews and call some of their clients.
Be Specific
No matter what type of company you ultimately choose, you need to be specific with your needs and issues. Before you hire anyone, explain the equipment you have and what you expect. Some on-call IT services don't work with Mac OS  X while others don't handle networks, only stand alone machines. Know your needs and make sure that the company you hire can accommodate you.
If you're dropping your machine off with a service company, be able to explain the issue you're having in detail. If possible have screenshots or pictures of the error messages you receive. Also, try to note when it happens. Be specific, noting things like browsers or applications. Many IT service professionals know about certain issues which may lead to a quick fix.
In the end, the best option is a company you trust, whether that means a drop-off service owned by an individual or national chain or an on-call IT service that comes to you. If you're looking for a company to come to you and solve your computer issues or network problems, Toucan Technology Group is your local Indianapolis based on-call IT service. We offer free consultations to find if we're a good fit for your business needs. Call 317-376-4874 to schedule your appointment today.